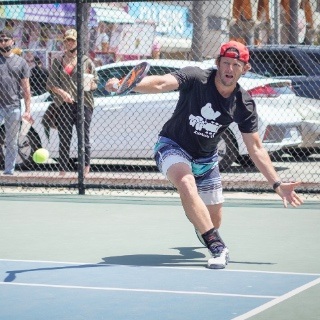 Andrea Carrano
Country

Division
Open
DOB
Hand
Right handed
Height
5'9"
Bio
Q & A with Co-Founder Andrea Carrano

-How did I get introduce to the sport?
In 2018 I was playing a tennis tournament and one of the players kept ranting about paddle tennis. During the tourney I had hurt my shoulder and could not serve. One of the players told me I should try paddle tennis. Shortly after I got invited to play a match at a friend's house. I could not believe how much fun it was. I never played tennis after that day.

-Why did you fall in love with the sport?
There is so much to love about this sport. But I guess for me being an ex-tennis player if feels like tennis on steroids. Every rally is full of action and excitement. Its often that a point will have all players on the court hit multiple shots, you rarely see this in tennis. The smaller courts make for longer rallies as there is less court to cover and also less chasing balls around the court. The ball being slightly deflated gives every one more time to get to it and hit it back at any level creating a more exciting match. it's easier on the body, great for cardio and fun for all ages and levels.

-Why are we partners?
Wulff and I met on the courts in Venice by chance. We had a short conversation and some how really connected. We shared a lot of similarities in our view of live and of course the sport. We became close friends and traveled many times together with my family and friends. We both knew the potential this sport has and also knew we had the skills to make this dream of ours come true and put this sport on the map. The rest was history.

-What are your plans for the sport?
There are two steps to our dream 1. Grow and solidify our local community by creating a safe and fun place to share this sport thru various activities. 2. Share the sport with the rest of the world and put it on the map as the one of the best paddle sports.


-A little about my history
I grew up in Milan Italy and moved to the states in my late teens. Tennis was always a big part of my life having played in high school and college. I founded a media company in my early twenties and then opened a shoe brand "andrea carrano". Even though these companies have grown and have been successful I always stayed active in the tennis community playing tournaments. When I discovered paddle tennis I knew I wanted to be involved with it closely. To building a brand I have learned it takes patience, work ethic and support to succeed. Alongside Wulff and the community I think we have all the elements to make our dream come true.