Issue #4 – daylight returns
Round 2 of The Tour has begun and with that is the 1st official ranking (after the initial seeding).  "Don't panic or get too cocky," says Wulff who assures you that "this is a long run and there are 450 points for you to advance or descend over the next 8 months. It's kind of like Formula 1 where you could crash in the first race but you have 8 other races to make up for your losses." Regardless if you win or lose your match, just showing up and playing gives you points in the ranking. And it's not too late to join this race. This is an ongoing tournament for all. So sign up if you have not yet. By playing competitively each month you are gaining new experiences and skills and meeting new people which has always been a big part of our goal in the Street Paddle family.
Another great tournament began last week, The Indian Wells Tennis Tournament or BNP Paribas Open. Located near beautiful Palm Springs, it is a beautiful oasis of palm trees and pavilions and the second largest permanent stadium after Arthur Ashe Stadium in New York. Considered to the "Grand Slam" of the West it is the most attended tournament other than the 4 majors – The Australian Open, The French Open, Wimbledon, and The U.S. Open.
Only 2 hours away, this open should be on every paddle player's yearly pilgrimage. Seeing how the pros move their feet, their form, and how they handle the micro shifts in emotion  – all these lessons translate for us too. And it's great to get away from Venice, if only for a night or two, to see Old Palm Springs, the beautiful desert in bloom, and then return to Venice – refreshed and ready to play!
Court Closures
You may have noticed that there are new signs on courts 1-4. A school has permitted the use of our courts on Mondays & Wednesdays from 8-10am; 1-3pm. This will last until April 27th. We have requested that the use of these courts be changed from courts 1-4 to 8-11, however, like the fences, we receive no answer. If you would like  to recommend this change – please call: 310-396-6764. We could use your help with this.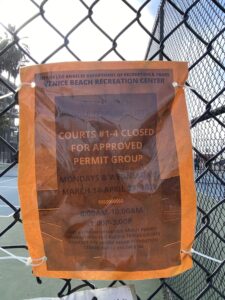 Last Monday, our neighbor, Muscle Beach re-opened. This famous open air gym, immortalized in the documentary, Pumping Iron, which features the young and winningly arrogant Arnold Schwarzenegger competing for Mr. Universe and Mr. Olympia versus Lou Ferrigno. Muscle Beach was their "home gym" during that golden age of bodybuilding.
In 2019 Muscle Beach was closed for renovations that went awry. During the pandemic all the brand new equipment was stored away and rats had eaten the upholstery. With other set backs, this venue finally opens in time for the warm Spring and Summer months. Muscle Beach Venice is open 7 days a week except for major holidays and rainy days. Gym hours vary based on the time of year. Please call 310-399-2775 or 310-396-6764 for more information.
Yearly Membership $200

Yearly Senior Membership $100 (age 60 & over)

Seven Day Pass $50 (any 7 days in calendar year)

Seven Day Senior Pass $25 (any 7 days in calendar year — age 60 & over)

Day Pass $10                                                                                                          

Day Pass Senior $5 (age 60 & over) 
Maybe I'll see you there? I need to build up some muscles for a better overhead smash.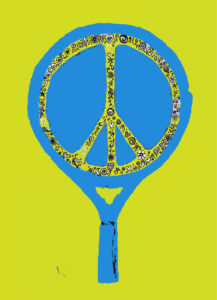 In the meantime – please read this wonderful piece, Which Court is Best. It was submitted by an anonymous writer and player who obviously spends ample time on the courts, like we all do – drawn to certain ones because of their hierarchy, their history, or lack of cracks?
I hope this article inspires you to share something with The Paddle Times –
Your thoughts? A restaurant review? A haiku?
Until then, see you on the courts,
Christine
Artwork by Leslie Martino – The View from Stadium 1, Indian Wells; Peace Paddle Ukraine
Photos by Wulff