Issue #6
Players,
I went to a friend's house who had recently begun
The Tour
and looked in his fruit bowl.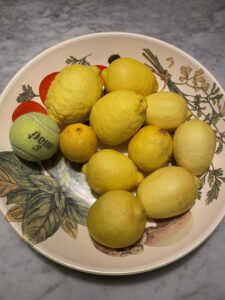 It's not surprising that paddle has infiltrated our lives in ways not expected.
Have you dreamt yet about any matches? Have you had to adjust your social calendar to make MORE time for  practice or dealt with sore muscles? These are aspects of paddle life that are reminders of how lucky we are to have this sport and community.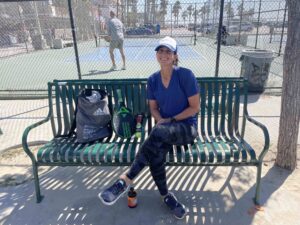 This week Daniel Wulff and Kathleen Elkins put together a wonderful new profile about Michelle Greco, a.k.a. Queen Michelle, as part of the "On the Bench Series." She holds a very dear place in our community because of her exceptional athletic ability and because she brings fierce integrity to the courts as a human being and as a competitor. Read it
NOW
.
Update on THE FENCES
We are working very hard to get ready to #PatchTheHoles.
Venice Rec & Park has given us the green light to create wonderful banners that you will be able to buy with a "stock image" – a group of pre-designed images of people from our community. Or you can purchase a "custom" image that you can upload yourself that Robin Antiga, the artist on the project, will design. Pop Paddle Venice has worked very hard to bring our issues with the courts to the city for the last few years and Street Paddle has graciously offered to host the site where you can see this campaign and purchase a banner. We will launch this campaign SOON!
Have you scheduled your match yet?
Please remember that Easter may eliminate a possible weekend (April 15-17th) that you can all play, so please schedule your match today. And tag @ThePaddleTimes on Instagram so we can get a photo of your group before you get sweaty and hopefully grab some video of you all in action, too.
Until then,
See you on the Courts,
Christine
Bench art by Leslie Martino