Issue #7
Players,
We are in the middle of Round 3 
The Tour
 and we have seen some AMAZING competition at every level. Wulff says that this is our first full month that we get to play our matches – this round ends on April 27th. Try to schedule your match early in case you want to pick another day because of inclement weather, like the crazy wind we have had these past two days. Get your points and most importantly, get the experience of playing your match and meeting new opponents.
Our entire community strives to be better with every match, maybe even with every point? We are constantly adjusting, re-thinking our strokes, strategy, and mindset – to name a few topics that may run through our minds as we play. We bring all of our athleticism with us when we play paddle. Our incredible sport lends itself to new players being able to pick up this game and play fairly quickly.  For example: Did you read
last week's interview with Michelle Greco
 by Daniel Wulff with Kathleen Elkins? Michelle's impressive years of college basket ball at UCLA and as a professional player in the WNBA and in Europe gives us insight to her phenomenal and unique style when she plays. This past week, the New York Times wrote a stirring piece about 
Wally Green
, "The Sport of Love': Ping-Pong, the Great Equalizer." Wally, has for many years, flown from New York to Venice to play Pop Tennis/ Paddle for many years -whether it's for a tournament or just for a weekend, he brings his lightning fast moves and street attitude with every point. Nice shirt by the way, thanks to Robin Antiga!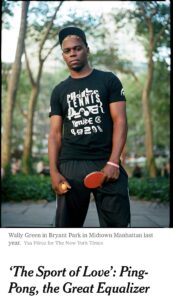 In this week's article, Larry Nagler, UCLA tennis legend, wrote "
A contrary response to 'Break Serve More Often by Following the Ball.
'" Larry offers his response to the article that 
Brian Wan wrote
 a few weeks ago. We really appreciate the conversations and discussions sparked by our community offering views and allowing everyone to agree and disagree. And although all three players mentioned: Michelle, Wally, and Larry have exceptional sports credentials, The Paddle Times wants to know what informs your style of play? Whether you are beginner, an A-1, A-2 or Open player –
What has playing competitively taught you over these past few months?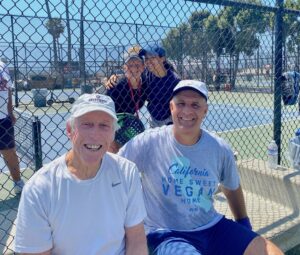 Free free to comment below or anonymously 
here.
Update on THE FENCES
We will be launching our campaign, #PatchTheHoles, soon! In the meantime,  please enjoy a few images that Robin Antiga has created.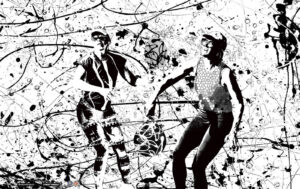 You will be able to purchase these stock images (and many more) to patch the holes. You will also have the chance to upload your own custom photo if you prefer. More information coming soon.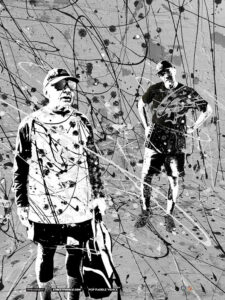 Thanks for reading this and being a part of our community!
See you on the courts,
Christine