Issue #2 – yeah!
During the week we watched some really great matches either live or on IG with commentary by Wulff. He and Andrea want to remind you that as you play your first match, the rankings are changing – so check them out! There are a lot of matches that need to be played by March 5 so next week should be a Bonanza of Paddle! -Stay tuned on either @StreetPaddle or @paddlelegends or even @pop_paddle_venice for live stream feeds.
Did you attend the Street Paddle Mixer on Thursday at a usually sleepy James Beach? (See Gallery) Our community was there in force in the back room with players of all levels mingling together.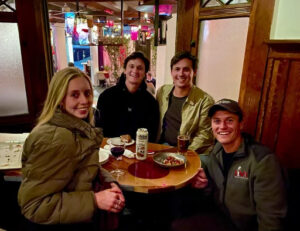 It was a serious A-ha moment for Street Paddle Team. Andrea noticed as he walked through our crowd of 80-100 players that players were "deep in conversation something we don't really experience when at the courts." Wulff says it's been super fun to "connect all these people together. There is more in common than we think."
Speaking of conversations and connections – Wulff had some time to interview "Chef Mike" while playing golf this past week at Penmar. This is the first article in the  "On the Bench Series" edited by Kathleen Elkins. Learn why Mike is probably the most loved player in Venice Beach. Thank you to Wulff & Kathleen for this collaboration!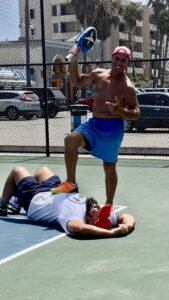 This past week The New York Times published an article about Pickle ball which I had considered never mentioning in this blog at all – but I've come to the realization that that annoying hollow sound of a wiffle ball is not going away. I have no problem with people playing that sport but I do have a problem with that sport taking over our courts. So does regal Romy Hightower, the subject of my article, The Culver Court Rules. I got a chance to interview her and hear how she feels about rules -something paddle players may not always like to abide by but something we can start to address as our paddle movement picks up steam.
If you would like to contribute to The Paddle Times -please do!  I welcome your thoughts, submissions, articles, artwork, cartoons, a haiku?
Lastly, as we have seen from the invasion of Ukraine 🇺🇦 Life is fragile 🇺🇦 We are so lucky to have freedom, and for us specifically – a fun sport that keeps us active and connects us with people from all walks of life.
See you on the courts or at the next Street Paddle Mixer,
Christine Lee, Editor